EDUCATION
Doctor of Philosophy [PhD], University Malaya, 2019.
Visiting Fellow, Cambridge University UK 2002-2003.
Visiting Scholar, Harvard Institute of International Development (Harvard University) 1991-1992.
Visiting Scholar, University of California, Berkeley 1977-1979.
Barrister-at-Law, Lincoln's Inn, London 1957-1959.
Secondary education at Sultan Abdul Hamid College, Kedah and St. Xavier's Institution, Penang.
Primary education at Seberang Perak Malay School, Kedah.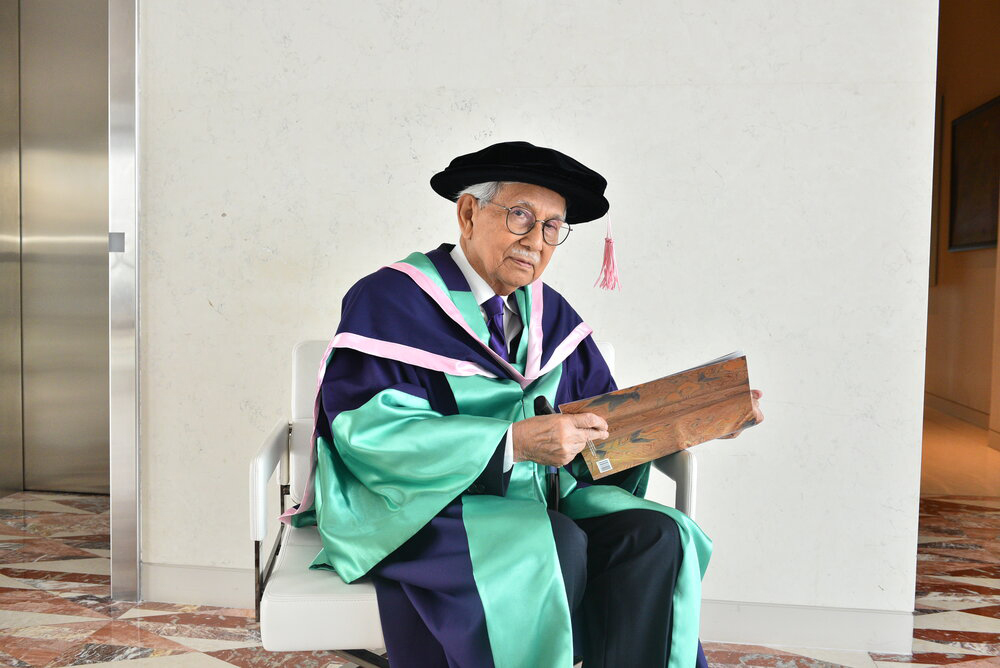 CAREER
Present: Actively involved in developing the Malaysian agriculture sector through various farm visits and advising SMEs in the agriculture and food production sector
7 January 2020: Harun Ar-Rasyid Lifetime Achievement Award, Islamic Excellence Awards
16 November 2019: Honorary Doctor of Economics, Universiti Malaysia Terengganu
12 October 2019: Doctor of Philosophy, PhD, University Malaya for the thesis "The Creation and Implementation of the New Economic Policy: Success and Failure, 1970 – 2008" ("Penciptaan dan Pelaksanaan Dasar Ekonomi Baru: Kejayaan dan Kegagalan, 1970-2008")
March 2019: Special Envoy to YAB Prime Minister of Malaysia
May 2018 – August 2018: Chairman of the Council of Eminent Persons
27 September 2014: Honorary Doctorate in Economy, Universiti Malaysia Perlis (UniMAP)
1 March 2011: Awarded Distinguished Associateship by Asia-Europe Institute, University of Malaya
2009 -2013: Member of the Board of Trustees, Multimedia University, Malaysia
2009 -2013: Chairman of the Internal Audit Committee, Asian Football Confederation (AFC)
August 2009: Appointed to Coca-Cola's Malaysia Advisory Group
2006: Awarded the International Business Leader 2006 Award by the African Investor magazine for his vision and active investments in the International Commercial Banks (ICBs) operating in Africa
2006: Conferred the National Order of Benin award by the Government of Republic of Benin, Africa.
18 September 2005: Honorary Doctorate in Economy, Universiti Kebangsaan Malaysia
2002 - 2003: Visiting Fellow, Cambridge University, United Kingdom
March 2002 – March 2011: Appointed to Board of Governors, East-West Center, Hawaii, USA. Member of the East-West Center Audit Committee
31 May 2001: Retired from all government official posts including that of Treasurer, Barisan Nasional and UMNO
2000: Conferred the title of Darjah Gemilang Seri Melaka (DGSM) by Malacca, carrying the title "Datuk Seri"
14 December 1999 - 2001: Re-appointed Minister of Finance and Minister of Special Functions following Barisan Nasional's general election victory
9 January 1999: Minister of Finance 1, until dissolution of Parliament for general election in November 1999
26 June 1998: Minister of Special Functions, Prime Minister's Department
1998: Honorary Degree, Malaysian Institute of Engineers
30 December 1997: Executive Director, National Economic Action Council (NEAC), a special consultative body to the Cabinet established to spearhead economic recovery policies)
March 1997 - April 1999: Founder member of Malaysian Wetlands Foundation since its inception
June 1997- July 1998: Chairman of Kumpulan Ladang-Ladang Perbadanan Kedah Sdn Bhd
1997: Conferred the title of Dato' Sri Paduka Mahkota Selangor (SPMS) by DYMM Sultan Selangor, carrying the title "Dato' Seri"
1995: Honorary Doctor of Management, Universiti Utara Malaysia
12 August 1995: Honorary Doctor of Economics, Universiti Sains Malaysia
August 1994 – December 1998: Pro-Chancellor of University Sains Malaysia
1994: Founding Chairman, International Commercial Bank Group, with establishments in Europe, Asia and Africa
1994: Honorary Degree, Malaysian Institute of Planners
December 1992 - March 2000: Chairman of Labuan Development Authority
January 1992 - December 2000: Chairman of Northern Growth Triangle project (IMT-GT) between Thailand, Indonesia and Malaysia and special representative for the East Asean Growth (EAGA) between Philippines, Brunei, Indonesia and Malaysia
1992-1994: Visiting Scholar, Kennedy School of Government, Harvard University
September 1991 – July 1998: Adjunct Professor, University Utara Malaysia
1991: Vice Chairman of Malaysian Business Council (Majlis Perdagangan Malaysia)
1990 -2001: Joint Chairman of Langkawi Development Authority [LADA]
1986: Divested all shares in UMBC, Sime Darby, Sistem Televisyen Malaysia (TV3), Cold Storage, Guthrie Ropen, Malayan Banking, Technology Resources Industries (TRI), Idris Hydraulic, Oriental Holdings, Tasik Cement, Industrial Oxygen, Bolton Properties, Malayan Flour, SPK, and Syarikat Permodalan dan Perusahaan Perak Berhad (SPPPB)
1984 - March 1991: Member of Lembaga Pemegang Amanah Yayasan Pelaburan Bumiputra
14 July 1984 - 14 March 1991: Finance Minister of Malaysia
1986 - March 2004: Member of Parliament for Merbok, Kedah
April 1982 - 1986: Member of Parliament for Kuala Muda, Kedah
1985: Treasurer of the ruling political component party, Barisan Nasional
1984 - 2001: Treasurer-General of UMNO.
1984: Sold stake in Malaysian French Bank Berhad to Multi-Purpose Holdings Berhad (MPHB) in exchange for a stake in United Malayan Banking Corporation (UMBC).
1982: Purchased a 33% stake in Sime UEP, the main developer of Subang Jaya township
1982: Majority shareholder of Malaysian French Bank Berhad
1982: Chairman of Fleet Holdings Sdn Bhd, UMNO's investment arm.
1982: Chairman of Syarikat Televisyen Malaysia (TV3) and Rakyat First Merchant Bankers.
December 1980 - April 1982: Senator, Parliament of Malaysia
1980: Appointed as the first Chairman of Peremba, the property development arm of the Urban Development Authority, UDA.
1977 - 1979: Visiting Scholar, University of California, Berkeley, USA
1971: Ventured into property development, developing various housing estates including Taman Maluri and Taman Bukit Maluri, Kuala Lumpur.
1969: Ventured into business in Selangor and Malacca, including ventures into salt production, food manufacturing (Sedap Food), and food packaging (Daibochi).
1965: Returned to private legal practice with Allen & Gledhill, and thereafter as founding partner in Daim & Gamany.
1964 - 1965: Deputy Public Prosecutor in Ipoh, Perak.
1963 - 1964: Sessions Court Judge in Muar, Johor.
1962 - 1963: Magistrate in Johor Baru, Johor
1962: Joined the Malaysian Judicial and Legal Service.
1960 – 1962: In private legal practice, including the chambers of Pillai & Co. and later on at Shearn DeLamore. In 1961, worked for Wan Mustaffa & Co. in Kota Bharu, Kelantan.
27 February 1961: Admitted to the Malayan Bar
1957- 1959: Lincoln's Inn, London
1956-1957: Temporary teacher at Sultan Abdul Hamid College, Kedah
1954-1955: St Xavier's Institution, Penang
1949 - 1953: Sultan Abdul Hamid College, Kedah
1945 -1948: Seberang Perak Malay School, Kedah
29 April 1938: Born in Alor Setar, Kedah
Scroll