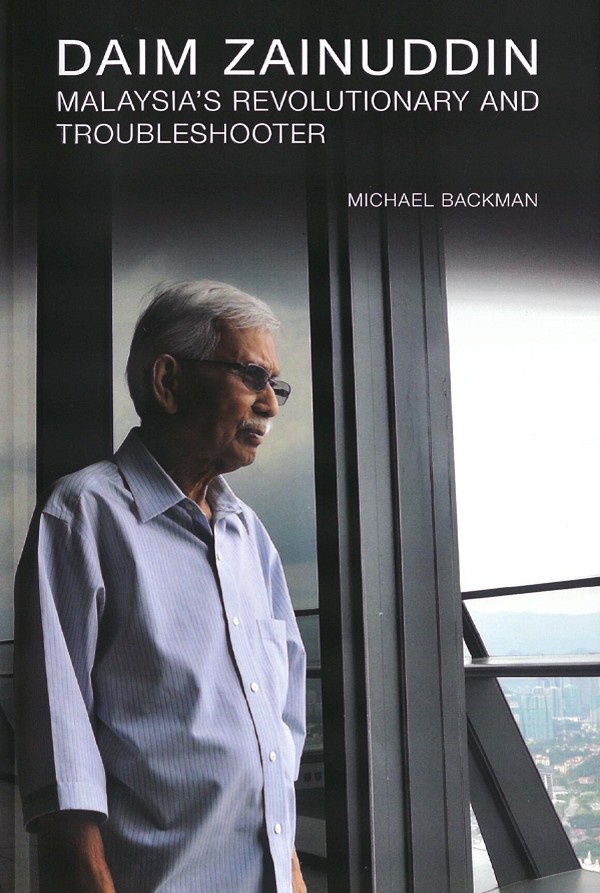 Malaysia's Revolutionary and Troubleshooter
by Michael Backman, 2018
Daim Zainuddin is one of Asia's cleverest politicians and policy makers, as well as one of its most controversial. Twice, rescuing the Malaysian economy from near collapse, he has also been instrumental in restructuring the Malaysian economy - in particular in breaking the link between race and wealth. However, he has received insufficient recognition for his efforts - perhaps because he is very wealthy himself, causing him to be the target of innuendo and envy. He was self-made and rich before he went into politics - the reverse of what too often is the case in Asia. Through numerous interviews with Daim himself and the people around him, Michael Backman reveals the truth behind one of Asia's most able, private and contenious politicians.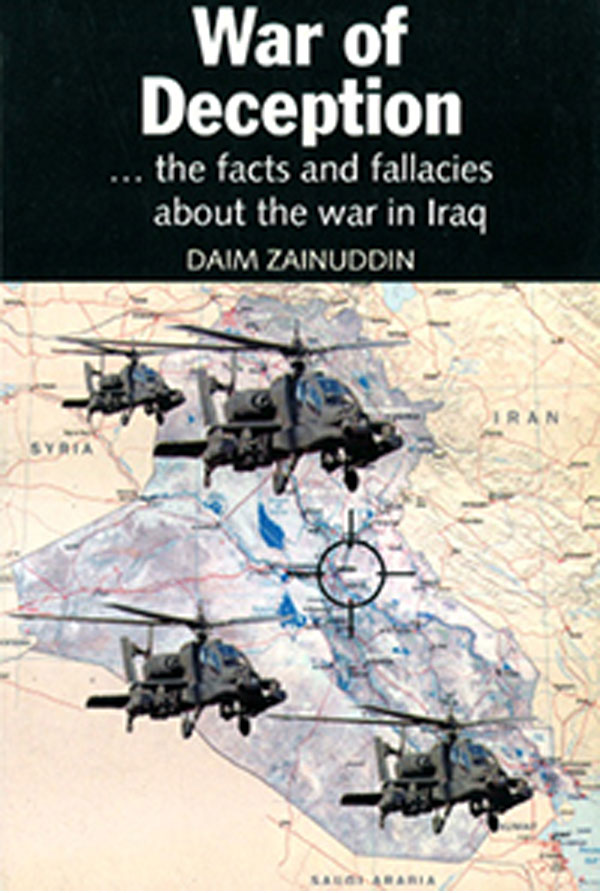 War of Deception:
The Facts and Fallacies About the War in Iraq
by Daim Zainuddin, 2004
"In western democracy, political daggers are drawn to banish players deemed to have messed up the arguments. Iraq, meanwhile, is a horrible mess. Iraqis are waiting not for democracy to flourish, but simply to get on with their lives".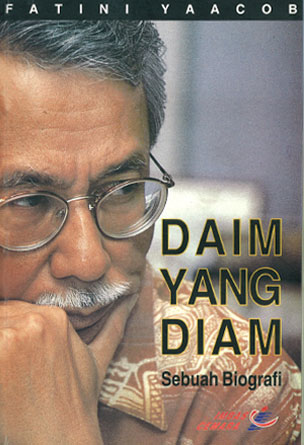 Daim Yang Diam,
Sebuah Biografi
by Fatini Yaacob, 1997
"Daim bukan sekadar memulihkan ekonomi Negara, malahan mencatatkan rekod pertumbuhan ekonomi antara yang tertinggi di Asia, Dari pertumbuhan ekonomi yang negatif 1.1 peratus pada tahun 1984, Daim merubahnya kepada 8.9 peratus pada tahun 1989."

Buku ini menyingkap kehidupan Tun Daim dari kacamata keluarga dan rakan terdekat. Melayari perjalanan beliau dari bidang undang-undang ke arena perniagaan hinggalah ke dunia politik di mana beliau dilantik menjadi Menteri Kewangan Malaysia dari 1984-1991.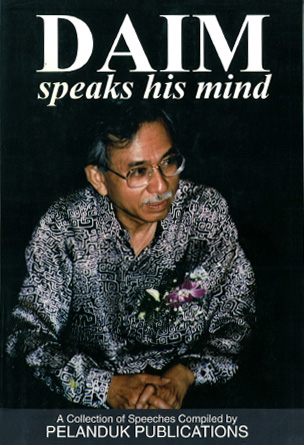 Daim Speaks His Mind
by Daim Zainuddin, 1996
Daim Speaks His Mind offers an insight into the thinking of Malaysia's sixth and most controversial Finance Minister, Tun Daim Zainuddin. He is credited for reviving Malaysia's recession-hit economy which registered minus growth in the mid 1980s, setting the nation on a sound footing for greater growth. Acknowledged at home and abroad as the man who confounded the prophets of doom, Daim remains a mind to reckon with. This book encompasses the more important speeches he made. A man of few words, Daim speaks with a succinct candour and a wry humour which make riveting reading.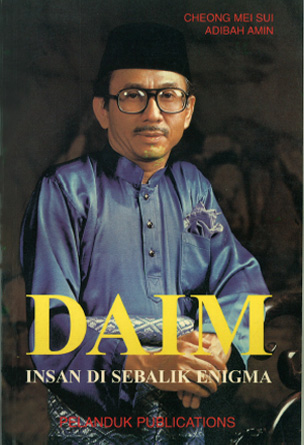 Daim Insan
Di Sebalik Enigma
by Chong Mei Sui and Adibah Amin, 1996
Buku ini memberi gambaran terus terang tentang seorang tokoh yang telah lama membingungkan penganalisis politik dan ekonomi di dalam dan di luar negara. Tun Daim Zainuddin, Menteri Kewangan Malaysia (1984-1991), seorang usahawan yang berjaya sebelum menyertai Kabinet telah membuktikan keupayaannya memulihkan ekonomi yang dilanda kemelesetan dan membimbingnya ke tahap yang lebih tinggi. Keupayaan beliau merupakan suatu enigma yang masih belum tersingkap dan masih menjadi sebutan ramai.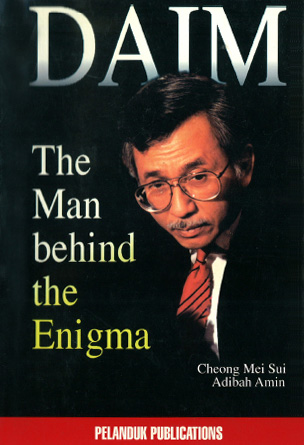 Daim The Man
Behind The Enigma
by Chong Mei Sui and Adibah Amin, 1995
This is a candid portrait of a man who has long perplexed political and economic analysts at home and abroad. Tun Daim Zainuddin, Malaysia's Finance Minister (1984-1991), a successful entrepreneur before he joined the Government, confounded prophets of doom when he revived a recession-hit economy and set its feet on the path to new heights. Speculation has been rife on the extent of his political influence, his invisible role in crucial events, his relationships with big players in the power game.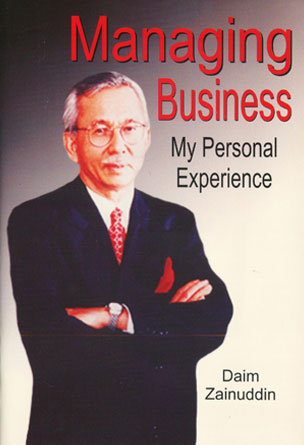 Managing Business,
My Personal Experience
by Daim Zainuddin, 1995 printed courtesy of Tan Sri Halim Saad
Tun Daim's address to business students at Universiti Utara Malaysia (UUM) where he advices students on basic managerial skills and values to achieve business and personal success. He further explored the technicalities and practicalities of starting a business as well as the organisational skills needed to excel and exceed one's own expectations.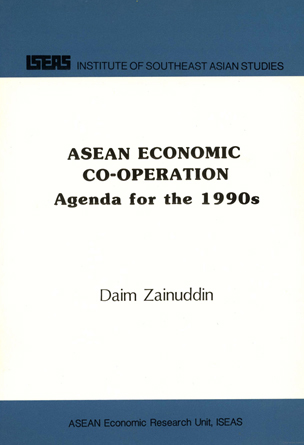 Asian Economic Co-Operation Agenda for the 1990's
by Daim Zainuddin, 1990
This paper was delivered at the Official Opening of the ASEAN Roundtable on an Agenda for ASEAN in the 1990s, organized by the Institute of Southeast Asian Studies on 29 March 1990.